Walid ABOU ZAHR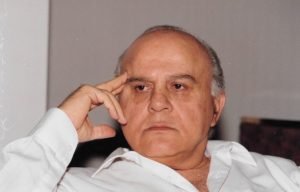 Born in Sidon, Lebanon in 1938, Walid Abou Zahr experienced a childhood fraught with difficulties. He was only 7 years old when he lost his father; a tragedy that would turn his life upside down and ultimately force him to work at an early age to support his family.
Walid-the-kind-hearted, as he was known to those who surrounded him because of his generous and loving nature, shouldered a large share of responsibility for the Abou Zahr clan. He finished his studies and went to work at Al Moharrer (The Editor), the newspaper his brother Hisham had established. There he became proficient in the skills of his chosen profession and was won over by the world of journalism.
Tragedy entered his life once again in 1973 when he suffered the untimely loss of his brother Hisham, which left him in charge of the daily. His early stewardship of the newspaper was a period of challenges and threats. Lebanon was in the midst of serious civil unrest, which eventually resulted in the shelling and destruction of the building where the newspaper had its offices; the attack killed the Managing Editor, Nayef Soblak. Feeling he could no longer fight heavy arms with words, Abou Zahr was forced into exile.
After a short transit period in London, he arrived in Paris in 1976. In Paris, he was a journalist without a vehicle of expression, so he created it himself. The result, Al Watan Al Arabi (The Arab Homeland) launched in February 1977, became the first Arabic language magazine conceived, edited and published out of Europe and the pioneer of "Arab Emigrated Press". The project faced doubts from friends and fellow Arab journalists. Indeed, addressing an Arabic audience from a European country seemed odd, yet it would turn out to be one of the magazine's greatest strength.
Through its freedom of speech and independence it crafted a new phase in Arab journalism. Al Watan Al Arabi's audience broadened week after week making it the most read newsmagazine in the region.
Despite enduring threats, Al Watan Al Arabi continued to publish with the same tone and style, maintaining a leading position among other political publications that had appeared in Europe and Arabic countries.
Free from censorship in Paris, Abou Zahr took up the pen as a weapon once again. Extensively admired for his courage, his stance also generated threats from the Syrian regime which eventually manifested itself in a series of assassination attempts; the most serious of which occurred in April 1982 at his offices "Rue Marbeuf" in Paris when a car bomb exploded. Despite these attempts on his life the magazine continued its publication without interruption.
These attempts on his life only served to intensify Abou Zahr's passion for the press. His commitment resulted in the expansion of the single Al Watan Al Arabi magazine to a full family of publications with the collaboration of his four children.
In 2004 when he passed away, Abou Zahr had been splitting his time between Paris and Cairo where he had relocated a part of his operation since 1992.
The life of Walid Abou Zahr was far from ordinary and the accomplishments achieved by Al Watan Al Arabi are too many to count but the fact that this exceptional journalist had a gift is undeniable. He collected information and facts and not only wrote about them but by analysing them was able to predict major geopolitical events in the Middle East. That is how and why Al Watan Al Arabi just like its predecessor Al Moharrer, became the warning voice of critical geopolitical changes in the region and one of the most respected media outlets in the Arab world. Readers along with officials had profound respect for him.
The journalistic fraternity in the Arab world, unanimously recognized losing a courageous and committed member, whose dedication for the freedom of the press inspired so many. Today many of fellow leading journalists in Arab media have earned their stripes either with Al Moharrer or Al Watan Al Arabi.